June 20, 2012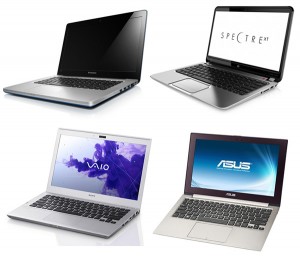 Anyone who has had a chance to carry around a Macbook Air for a few days knows that it's pretty amazing how much power can be crammed into a tiny laptop. And nobody knows it better than Intel, who provides the Intel Core i5 processors that power these wonderful silver slivers of computer. In fact, Intel is so proud of the size and speed of the Macbook Air, they'd like to see everyone carrying a laptop so luxurious- and that includes you too, Windows users!
To help them achieve this lofty goal, Intel has teamed up with all the top Windows PC manufacturers to make similar laptops of their own and coined the term "Ultrabook" as a sexy way to describe this slim, Core-powered form factor. But beyond similarities in size, shape and processor, the resulting Windows laptops look to have taken more than just a little inspiration from Apple's influential design. That, or there is a viral case of coincidence spreading through the electronics design community. The unintended result of the Ultrabook initiative: a sea of Macbook Air look-alikes! So if you want a thin, silver, unibody laptop with a recessed black chiclet keyboard and a black-rimmed display, but have to have it in a non-Apple flavor, you've now got a lot of options.
See for yourself and check out these four Intel-powered Ultrabooks. We've listed their dimensions, including monitor size, weight, and width, as well as their base price.
IdeaPad U310 - 13.3" monitor, 3.75 lb., 18mm. $799.00+
HP Envy Spectre XT - 13.3" monitor, 3.07 lb, 14.5mm. $999.99+
Sony Vaio T13 - 13.3" monitor, 3.45 lb., 18mm. $769.99+
Asus Zenbook Prime UX32 - 13.3" monitor, 3.24 lb., 18mm. $799.00+
And if you wanted to escape Apple's stark aesthetic in favor of something else? Well, there are always cool decals you can slap on the case. Or you can wait for candy-colored laptops to come back into style. Any day now, for sure…
Alexei Bochenek is a lifelong tech nerd & film buff based in Los Angeles. When he's not playing with his phone, it's because the movie has started. Shhhhh!