May 4, 2012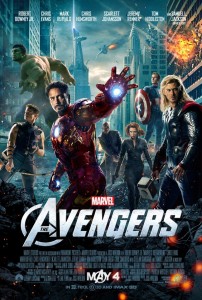 On May 4th, some of the world's biggest superhero franchises will combine on the big screen for what might be the summer's most massive movie experience: The Avengers. Delivered by Marvel Comics, Walt Disney Studios, and writer/director (and comic book geek-hero) Joss Whedon, The Avengers will see the establishment of the superhero fighting force to be reckoned with, including Iron Man, Thor, The Hulk, Captain America, Hawkeye, and Black Widow, all kicking butt on screen together. To get in the mood, check out this list of awesome Avengers-themed iPhone & iPad accessories and apps that pack a super-powered punch.
Marvel Comics App (Free) – Before they ever got the blockbuster treatment, the Avengers were saving the planet from within the pages of Marvel's comics. All the way back in 1963, "Earth's Mightiest Heroes" assembled to fight foes that no single superhero could ever combat on his or her own. Track their story through the hundreds of issues they've inhabited over the years with the Marvel Comics app, through which you can purchase digital copies of all the comic books you'll need to read for a serious education in Avengers history and mythology. Over 3,500 comics with all of the Marvel cast are online and easily searchable, and new free perks are available every week just for logging in.
Avengers Origins: Assemble App ($1.99) – Take a trip through the original Avengers storyline with none other than Stan "The Man" Lee, creator of the Avengers and undisputed most famous comic book author ever. Lee himself narrates the Avengers Origins: Assemble app, which tells the tale of the discovery of a frozen Captain America by Iron Man, Hulk, Thor, Ant-Man and the Wasp. With beautiful artwork and fun extras, you not only get the story of the first Avengers mission, but are given multiple chances to jump into the action and help save the day. Colorful tights not included, but highly recommended.
Once you've been bitten by the interactive storytelling bug, Marvel has additional apps available that explore the origins of the individual Avengers. For starters, Stan Lee has also lended his narration to Avengers Origins: Hulk ($1.99), the story of how a bespectacled gamma radiation researcher became a giant green smashing-machine. Once you're done Hulk-ing out, aim your sights at Marvel's The Avengers: Iron Man Mark VII (Free), which asks for your help to guide Tony Stark through the invention of his first super-suit on into the events of both Iron Man feature films. And don't forget to check out Marvel AR (Free), an "augmented reality" app which will scan your Marvel paper comic books and uncover secret hidden multimedia content, such as original artwork and behind-the-scenes exclusives.
Since the Avengers will be quite busy protecting the planet, it'll henceforth be up to you to protect your own electronics.  Luckily, there are plenty of Marvel-ous iPhone and iPad accessories worth bringing in to help.
Marvel Comics iPad Sleeve ($18) – This simple cotton iPad sleeve features a fun, bright retro-Avengers theme, with '70s-style Thor, The Incredible Hulk and Spider-Man jumping off the fabric. (You did know that Spidey sometimes freelances as an Avenger, right?) A black elastic band and an oversized button will cinch it tight and keep your tablet and other iPad accessories safe and villain-free inside.
Avengers Smartphone Cases ($15) – With a dark faux-leather back and a bright fabric front, these custom-made phone cases are a flashy way to feature your favorite superhero squad while protecting your favorite handheld device. Each case shows off a different Marvel hero, including Captain America, Thor, Iron Man, Hulk, and even another sometimes-Avenger, Wolverine. While the default size is iPhone/iPod ready, custom orders are accepted for you Android users as well.
Now that your gear is covered in this heroic kit and your Avengers apps are downloaded, check out the latest trailer one more time before hitting the theatre. It's OK if you've already given it several dozen views before now; so have we.
Alexei Bochenek is a lifelong tech nerd & film buff based in Los Angeles. When he's not playing with his phone, it's because the movie has started. Shhhhh!