June 4, 2012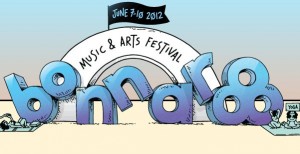 Every June, the Bonnaroo Music & Arts Festival transforms 700 acres of Tennessee farmland into one of the most exciting american concert series currently running. Over the course of four days, dozens of bands will contribute to a massive live show that spans ten stages and entertains some 80,000 fans from around the world. Not content to just deliver on music, Bonnaroo also features stand-up comedy, cinema, dancing, shopping, food, and even morning meditation sessions. If that still doesn't sound achingly hip enough for you, consider this: the Bonnaroo App. With individual iPhone, iPad, Android, Mac, and BlackBerry versions available for download, this digital entry into the epic-music-fest world is a must-have for Bonnaroo attendees, with integrated maps, schedules, and a retailer directory included. There's even a custom Bonnaroo photo frame that you can apply to the shots you take on your phone while you're there. And if you can't make it to Tennessee and are more than a little jealous, the app features a radio station programmed with tracks from Bonnaroo acts and feeds into their YouTube channel full of artist interviews, past performances, and soon-to-be-live feeds from the festival as it happens.
All of this app integration got us thinking: what Bonnaroo acts also have their own apps? As it turns out, a whole bunch!
Red Hot Chili Peppers (Free) – All things RHCP come together in the band's official Red Hot Chili Peppers App. You can start by following them as they hop from city to city on tour (including some 50 more shows this year alone) via an included news stream on your phone and frequent tweets from members of the group. Then check out photos from their shows and videos from the road, and listen to tracks from their huge catalog of recorded music. Fans can even sign in with their Facebook and Twitter accounts and interact within the app.
Live Phish ($3.99) – If you can't go on the road with Phish, the band's official Live Phish app will travel on your behalf. Linked in to their concert directory at LivePhish.net, this app streams professionally mastered soundboard recordings of every live Phish concert from the past ten years. Tune into Phish radio twenty-four hours a day, and check out fan reviews and write-ups from all their shows. If you stumble across something you like, you can purchase DRM-free FLAC recordings of any show on the spot.
Radiohead Streamfeed ($.99) – Though not an official app, the Radiohead Streamfeed aims to make fans of the band happy by aggregating all things Radiohead-related from around the web. From Flickr to Twitter to Youtube, every mention and sighting of the beloved British experimental alt-rock band is cataloged and laid out here for you.
WTF with Marc Maron (Free) – One of the many comedians set to take the stage at Bonnaroo is podcasting pioneer Marc Maron, who has gained mainstream acclaim for his intimate interview show, WTF. With the WTF app, you can keep up to date on the latest episodes and reach out to Maron via the show's official contact info. Many of the other comedians who will also tell jokes at the festival this year have actually been past guests on WTF, including Aziz Ansari, Brian Posehn, and Steven Wright. Check out the new episodes to get a feel for Maron's often intense style, and then buy into the archive for access to hundreds of old shows.
Reggie Watts Sound Board Remixer ($.99) – For all we know, Reggie Watts was birthed in a Bonnaroo-based secret underground laboratory for the specific purpose of entertaining you with both music and comedy. With an assortment of gadgets, a microphone, and some incredible a capella skills, he improvises loop-based music and tells jokes through stand-up and song. With the Reggie Watts Sound Board Remixer, you can emulate his style for cheap, combining his signature beat-boxing with your own vocal tracks for original compositions. While this app has Watts' face on it, it's not that comprehensive. For serious song-crafting, we recommend checking out Everyday Looper ($5.99), which the musician himself has been known to make music on.
Kenny Rogers Video Poker ($.99) – You gotta know when to hold 'em, know when to fold 'em, know when to walk away, and know when to run.
Alexei Bochenek is a lifelong tech nerd & film buff based in Los Angeles. When he's not playing with his phone, it's because the movie has started. Shhhhh!