June 12, 2012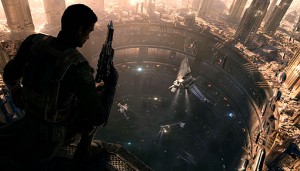 Another E3 video game conference is in the books. So, did it live up to the calendar-setting event of years past? Well…sort of. It looks like the next truly huge E3 will be in 2013, when Microsoft and Sony are likely to announce their next generation of consoles, to be released around Christmas of that year. Until then, we're preparing to play the final batch of games that will push the Xbox 360 and Playstation 3 to the limits of their processing power. Read on to find out what the best of those games were.

Expectations Met - Before E3, we had a pretty firm grasp of what the big games would be this year. Microsoft's Halo 4 and Sony's The Last of Us brought big thrills to each console and secured their place as most-anticipated for their respective platforms.
Also in the realm of saw-it-coming is Ubisoft's Assassin's Creed III, which will see release on all major systems in the fall of 2012. That action-adventure threequel (and fifth in the main series) treads over some pretty well worn ground of vertical platforming and historical stab-happiness, but keeps it fresh with a new location and new main character Connor Kenway. Set in Colonial America, you control a half Mohawk, half British assassin who has added treetop traversal to his list of nearly-superhuman skills.
Also coming in hot was the reboot to Tomb Raider, which was teased at E3 2011 and brought back for a more in depth preview this time around. While the original Tomb Raider managed to put the gun-toting, shorts-wearing Lara Croft on the map with no more than a handful of polygons, the new version looks to properly take advantage of the advances in both technology and storytelling since then. Following a younger version of the famed spelunker, everything is more harrowing as Croft earns her stripes as an explorer extraordinaire one knife, bow, and bloody bandage at a time.
Surprise, Surprise – The conference featured talk of not one, but two big Star Wars games. One was the already-released MMORPG The Old Republic, which announced its intentions to lure in more members with a free-to-play option. Starting next month, gamers will get free access to the first fifteen levels of character progression in the online game, which never quite took the world by storm as publisher EA hoped it would. But bigger news was the announcement and demo of Star Wars 1313, a mature-themed (read: very violent) action-adventure game set in the criminal underbelly of the Star Wars universe. You'll play a young bounty hunter who dares venture deep within the underground levels of the futuristic megalopolis Coruscant after his target- 1313 floors down, to be precise. Light on mystical Jedi shenanigans and heavy on blaster-fire, Star Wars 1313 hopes to resurrect the gritty, grimy sci-fi aesthetic created in the original trilogy and retake the franchise from its kid-friendly Clone Wars focus of recent years. To make sure they were taken seriously, Lucas Arts released some of the most beautiful game footage of E3, signaling that this new franchise may be headed for the next generation of consoles in 2013 or later.
Also flexing some seemingly next-gen muscle was Ubisoft's new title Watch Dogs, though they insisted it would be available at some point for Xbox 360 and PS3. The demo put us in the role of a well wired-in hacker who hunts down his enemies with the help of his trusty tablet and the world-wide-web it hooks into. Infiltrating every security cam, traffic light, cellphone and online database he could, the mysterious lead character seemed to manipulate the otherwise unwitting masses through technical expertise rather than brute force or intimidation, though the conclusion was the type of gunfight we're a little more than used to by now. The best detail, however, came at the end, when Ubisoft hinted that this character was just one way to play the game and that it would take place in an always-on multiplayer environment that could see your own cybercrimes bumping up against those of the other players around you. The graphics were sure nice, but it's this kind of inventive multiplayer gameplay that truly calls out to the next generation.
As for the Nintendo Wii U? We have no idea. Though E3 has come and gone, we're still waiting for Nintendo to reveal what will make their new console truly must-have. Up until now, they've showed off more mini-game collections, but few full AAA titles. Among the ones that wowed were Lego City Stories, an open world, PG-rated Grand Theft Auto clone set in a LEGO-built world. While we want to play it, we still don't know what the Wii U's signature tablet controller will do to make the experience special, and the whole thing has got us thinking…when do these games come out for Xbox and Playstation?
Alexei Bochenek is a lifelong tech nerd & film buff based in Los Angeles. When he's not playing with his phone, it's because the movie has started. Shhhhh!