March 14, 2012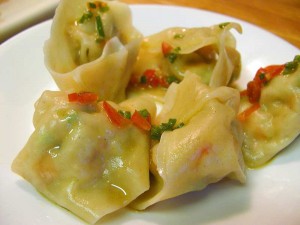 Drop that marinara-stained card with grandma's "special" sauce recipe on it. The days of shelves lined with cookbooks and recipe boxes is over and cooking apps are here. One trip to the Apple's App Store will push your food prep into the future, thanks to all of the interesting ways you can utilize your iPhone or iPad to become a top notch chef.

Here are ten of our favorite apps for help spicing up your next kitchen experiment.
1. Foodgawker (Free) – They say you eat with your eyes before it ever hits your stomach. We're pretty sure they are talking about Foodgawker, a searchable gallery of expertly photographed culinary creations. Updated daily, semi-pro chefs across the world show off their latest and greatest dishes and share their recipes (plus detailed blog posts about their process) with you.
2. Ratio ($4.99) – More than just a kitchen calculator/unit converter (though it does that too), Ratio will let you in on the art of recipe-creation by arming you with an understanding of how common sauces, batters and doughs are put together. Math never tasted so amazing.
3. Epicurious (Free) – Simply the best app for free recipes, Epicurious has more than 30,000 professionally crafted selections from renowned chefs and major magazines. Save your favorite recipes, generate shopping lists, and keep it handy while you cook; the app is designed to be viewable during even the most intense sautéing sessions.
4. 4 Ingredients ($2.99) – If your pantry is less than fully stocked, fear not. Help yourself to hundreds of recipes that feature four ingredients or less, thanks to aptly named app, 4 Ingredients. Don't know quite what you're in the mood for yet? Take a look in your fridge and find out your best bet for the supplies you've got on hand.
5. Harvest ($1.99) – Put your senses to work with the help of Harvest, a handy app for identifying the highest quality fresh ingredients for inclusion in your next meal. Now you'll always know what produce is in season, if something is ripe, and how pesticide levels will factor into your kitchen.
6. How To Cook Everything ($4.99) – This app version of the famous cookbook by New York Times food columnist Mark Bittman is a virtual Swiss army knife packed with handy tools for chefs of all levels. Recipes, built-in timers, and a no-nonsense attitude make How To Cook Everything an indispensable app. And there's even a Vegetarian Edition if you share a house with a picky herbivore.
7. Ask the Cheesemonger (Free) – Easily one of the most confusing staples of high-end cuisine, the wide variety of cheese available to the modern market-goer can be daunting. Ask the Cheesemonger serves not only novices but seasoned cheese-heads who aim to learn about the world's many different styles of fromage, what the best methods for enjoying them are, plus how to pair them with wine for optimal eating.
8. Mixology Drink Recipes (Free) – It isn't really dinner without drinks to match, and Mixology has over 7,900 drink recipes to help smooth out your entertaining experience. Let them know the contents of your liquor cabinet and they'll spin out a wide variety of concoctions that await your shaker.
9. Desserts: My Daily Indulgence ($3.99) – Every meal isn't going to come out perfect, but we've got a fool-proof plan for securing mealtime success: follow it with a delicious dessert. My Daily Indulgence has over 100 how-to videos to ensure that no matter what comes at the beginning of the meal, you'll be sure to stick the landing (or at least cushion your fall with great big pile of cookies and cakes).
10. Urban Spoon (Free) – You know what? Screw it; let's just go out to eat. Surely we can find a good spot to dine with the help of Urban Spoon, which sorts your local eateries by location, style of cuisine and price. Feeling lucky? Put your money where your mouth is and let the app pick your next dinner spot by random, and then use the app to make a reservation and sign in online when you arrive.
Alexei Bochenek is a lifelong tech nerd & film buff based in Los Angeles. When he's not playing with his phone, it's because the movie has started. Shhhhh!