April 19, 2012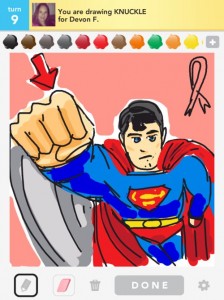 Ever since the news that mobile game mega-maker Zynga bought boutique developer OMGPOP for upwards of $200 million (yes, you read that correctly), iOS & Android users have been downloading OMGPOP's hit game Draw Something at a supercharged pace. Considering that the game is essentially a modern day revamp of Pictionary, Draw Something's success (and huge payday) has been a bit of a surprise among the mobile community. Sure, it's a great game, but what makes it worth so many millions?
The apparent key to mobile success: asynchronicity. Draw Something, like the popular Scrabble-clone Words With Friends, has perfected the art of multiplayer gaming that you can do alone, on your own schedule. Think playing chess by mail, but…not boring. You draw your picture, send it out, and wait for a reply. And while you're waiting, you've got all of the rest of your friends, apps, and the entirety of the internet to keep you entertained. Because the game is turn-based, you can knock out your picture whenever you have a free minute, lending you the feeling of complete control over the experience. There's no timer ticking down to add pressure, nor do you have to worry about scheduling issues when you agree to start a game. In fact, you can agree to start as many games with as many friends as you'd like, and pepper your day with sporadic bits of gaming that suit your personal taste.
Don't think this asynchronous lifestyle is some fad. A quick look into other popular trends reveals that as technology advances, one of our favorite uses for it is stopping and starting time at our own whim. Watching TV in real time has become a thing of the past, thanks to TiVos and DVRs. Text messaging is overtaking live phone calls. And the biggest indicator of our budding love affair with asynchronicity: Facebook, where you can interact with everyone you know all at once…even while they're asleep.
Alexei Bochenek is a lifelong tech nerd & film buff based in Los Angeles. When he's not playing with his phone, it's because the movie has started. Shhhhh!