April 20, 2012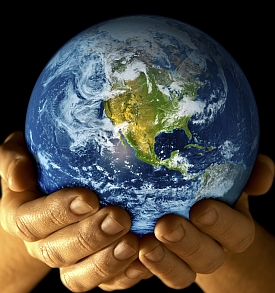 Earth Day has arrived, so we're celebrating the planet with a rundown of some of our favorite eco-friendly iPhone & iPad accessories and apps. From having fun to looking good, use your favorite Apple gadgets to show the earth some much-deserved love.
EcoChallenge App for iPhone & iPad (Free) – Respecting the planet doesn't have to be a challenge- unless that helps you get excited about completing it! Social app EcoChallenge turns every day tasks and lifestyle changes into a competition between you and your friends using your iPad or iPhone to see who can be the greenest. Every item is presented alongside attractive and informative infographics, so you know exactly why it matters to put in the extra effort. Eat locally sourced produce, cut down on energy waste, and- most importantly- win!
Taptu Guardian Environment (Free) – UK mobile app maker Taptu puts their media aggregation skills to work for Planet Earth in the Taptu Guardian Environment social news reader. With a focus on environmental issues and green media, this app pulls in all the best articles and news stories from eco-conscious sources worldwide and lays them out in a beautiful configuration for you to page through on your iPad or iPhone. Tend to your news feed to focus it on exactly what interests you, and then blast out the articles that impress you the most via Facebook and Twitter, planting the seed of environmentalism in the heads of all your friends.
Bamboo iPad Case by SILVA ($129.99) – Show your appreciation for a sustainable lifestyle by wrapping your iPad up in one of the fastest growing building materials around: bamboo. Unlike wood, bamboo grows in months, not years, at which point SILVA uses it to produce these extremely sleek (and tough!) iPad cases that are assembled and sanded by hand before being rubbed down with Tung oil until they're almost glass-like in smoothness. And did I mention they look super cool?
Alexei Bochenek is a lifelong tech nerd & film buff based in Los Angeles. When he's not playing with his phone, it's because the movie has started. Shhhhh!