April 27, 2012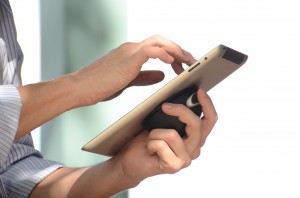 The Vancouver Sun appreciates Octa's understanding of the desire to keep an iPad safe. That is, after all, one of the main ideas behind the Vacuum Dock + WhaleTail iPad handle. The Vacuum Dock + WhaleTail serves to keep your device safe, whether it be an iPad, tablet, or e-reader. When it's not functioning as an iPad handle, the Vacuum Dock + WhaleTail also functions as a tablet stand and grip.
The system starts with the Vacuum Dock, which can be used alone as a low angle stand or a grip (a function especially beneficial when used with an e-reader). Simply place the Vacuum Dock against the back of your device, give it a few pumps, and it will bond to the back of your device for about 24 hours! If you want the bond to last longer, simply give the Vacuum Dock an additional pump or two while it's still attached.
To use the Vacuum Dock + WhaleTail as an iPad handle, simply take the Dome Cap off of the Vacuum Dock and replace it with the WhaleTail. Slide the WhaleTail between your middle and pointer fingers, then curl the tail back over your hand. You can even bend the twin flukes in towards your wrist for added support. Now you're free to move around without dropping your iPad!
The WhaleTail also adds stability and a wide range of angles when using the system as an iPad stand. Use the WhaleTail at a high angle to read and watch movies, then bend it down to a low angle to type! The twin flukes also add more lateral support than any other iPad stand has.
The whole system, including the Vacuum Dock, Dome Cap, WhaleTail and screen-cleaning carrying pouch can be bought at www.octa.com for just $49.95!
Secure your tablet, talk hands free