February 2, 2012
Nothing But Tablets believes the shape of the Vacuum Dock + WhaleTail makes sense for increased functionality of tablets. It functions as both a tablet grip and an iPad stand.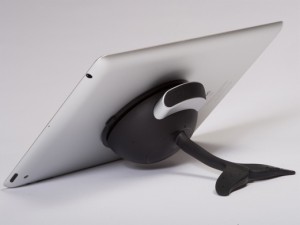 The whole system starts with the Vacuum Dock. Using Octa's very own vacuum suction technology, this piece holds firm to the back of any non-porous surface. This includes all iPads, Kindles, the vast majority of other tablets, and hard cases. Simply press the Vacuum Dock against the back of your device and give it a few pumps — it will hold up to 60 pounds for a minimum of six hours without re-pumping! Use the Vacuum Dock alone with a tablet or e-reader and you've got a grip made to lay perfectly in the human hand at rest. Want to use the TabletTail system as an iPad stand or handle? It's easy!
Remove a small circle of plastic — the Dome Cap — from the top of the Vacuum Dock to reveal it's gear system. You can then easily lock in the WhaleTail. The WhaleTail can be used easily as in iPad stand or handle. For an iPad stand, simply prop your device up on the table and adjust the tail to whatever angle you want to use your iPad at. This serves not only as both a high and low angle iPad stand, but an iPad stand that works both horizontally and vertically! Want to use the WhaleTail as an iPad handle? Simply thread the tail in between your fingers and tighten the tail against the back of your hand. You can even adjust the twin flukes around the wrist for added support!
The TabletTail system, which comes with the Vacuum Dock, Dome Cap, and WhaleTail, also comes in a drawstring bag. Thing the functionality ends there? It doesn't! The drawstring bag is made out of a special material to clean the screens of your devices.
Octa WhaleTail gives your tablet a tail