Flexible
iPad Stand That's Visible at Every Angle
The Retina Display is useless if you can't see your iPad. This iPad stand is so flexible it offers every useful angle. Bend the WhaleTail to a reclined movie-watching display. Push the WhaleTail into a low typing mode. Want a more extreme iPad stand? Move the Vacuum Dock to the lowest corner of your iPad for full vertical view that few iPad accessories can achieve! This flexibility allows your iPad to adjust around you – instead of making you adjust to your iPad. Finally, you can read poolside in that rare position that both avoids the sun's glare and feels good to your neck.  Learn more now about Octa's
iPad stand
.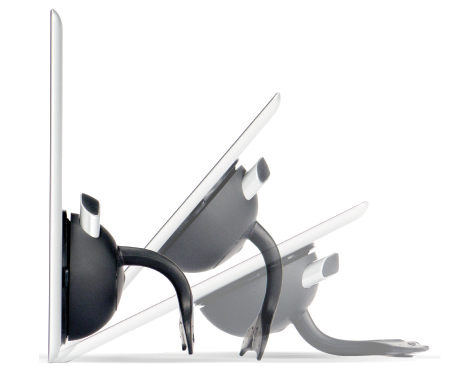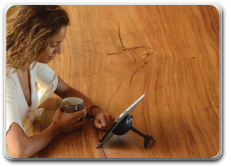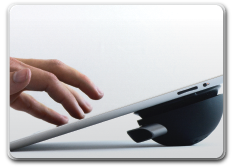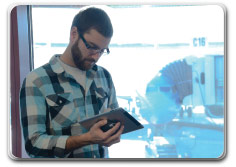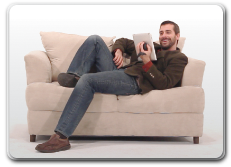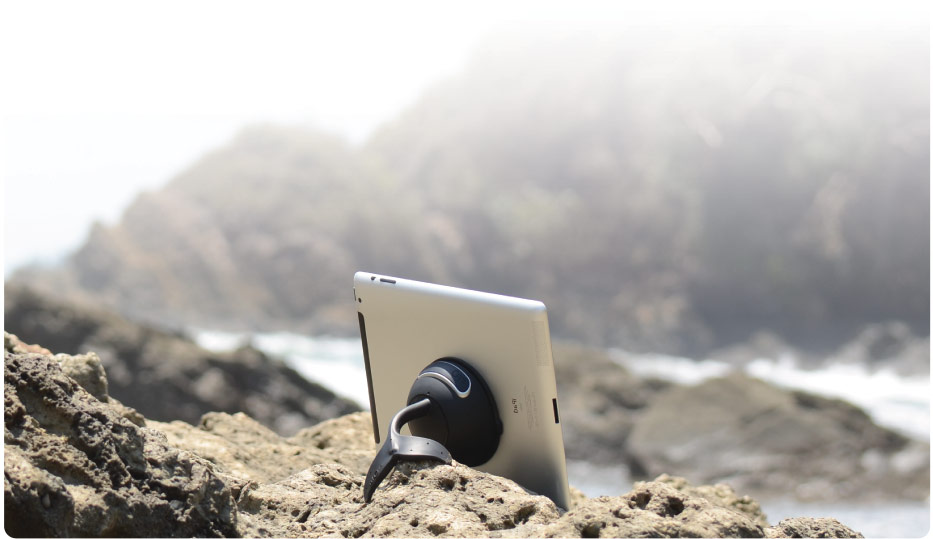 Strong and Sturdy
iPad Stand That's Sturdy on Every Surface
Perhaps you'd rather read on the beach than by the pool. This iPad stand is study on the most unexpected surface. Most stands have flat bottoms – and fall over in uneven places. Octa's WhaleTail has two flexible fins, making it sturdy in the sand or even on the rocks. It won't rock while you're typing. Those same two fins provide immense lateral support.
iPad accessories should accommodate natural motion. But, when you watch movies in bed, adjusting the covers is enough to knock an iPad stand over. Unless it's a WhaleTail! The scalloped bottoms of its fins allow it to rock with you, without toppling – just like a real whale rides the waves.
Future Proof
iPad Handle That's Compatible With Every iPad
What if one kiddo has an original iPad and the other has an iPad 2? Octa's iPad stand works on both versions. It even fits the new model, providing an iPad handle that grows with your technology. Octa's Vacuum Dock + WhaleTail is compatible with many other iPad accessories, including smooth, non-porous cases. Finally, there's an all-in-one solution for your techno-comfort needs.  Try Octa's
iPad handle
.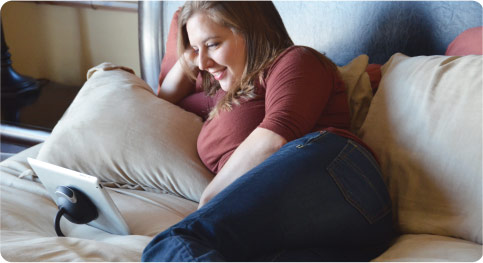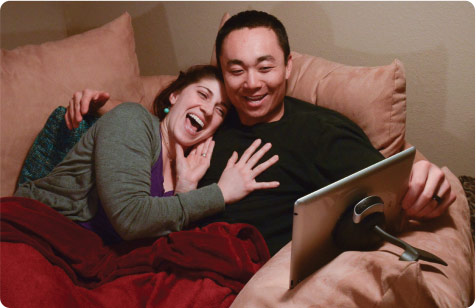 Light and Small
iPad Stand That Fits Every Pocket
The best iPad accessories are only as useful as they're portable. A big iPad stand that works at your desk does no good on a tiny café table. You have to get it there to begin with! And, once you do, there's no room left for your latte. The Vacuum Dock + WhaleTail separate into two compact parts, making it the perfect iPad stand for traveling. The pieces slide easily into your briefcase, bag, or – depending on your jeans – your back pocket.
Ergonomic
iPad Handle That's Comfortable in Every Hand
Protection begins with not dropping your iPad, but few iPad accessories make the device any easier to hold. You grab the iPad's sides, tiring your thumbs, wrists and forearms. The very position itself reduces muscle strength and is ergonomically unsound. Octa's iPad handle affixes to the back of your device, allowing your iPad to rest against the whole strength of your forearm. Octa carefully research the size ideal for every palm. This iPad handle is small enough to fit the grip of a child, yet substantial enough for adults to hold. Now, iPad accessories can be shared by the family. Buy an
iPad handle
with a flexible iPad stand now.