June 7, 2012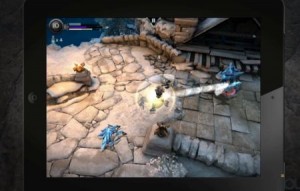 We've told you how to follow the news about major consoles at this year's E3 Electronic Entertainment Expo, but consoles are no longer the only place where gaming happens. Thanks to handheld devices like the iPad, the mobile gaming market is getting bigger every year. We've rounded up mobile gaming at this year's E3. Read on for what we're looking.
Infinity Blade: Dungeons - iOS users jealous of all that Diablo III buzz should point their eyes at this new footage from Infinity Blade: Dungeons. Set in the same universe as the popular medieval dueling game Infinity Blade, this time around you're free to move and explore and aren't limited to one-on-one battles. Hack and slash through a variety of evil knights and massive monsters in a variety of locations from a new top-down perspective. And don't forget about loot: there will be lots to collect for upgrading your fighter. Clearly, developer Epic recognizes the potential of tablet gaming and has put a lot of polish on the latest in this ongoing and increasingly interesting series.
The Act - While most video games must appeal to the narrow spectrum of console owners, mobile developers are ready to seek out a new audience who may otherwise not be typical "gamers." Enter The Act, an animated adventure with a jazz-score, retro setting, and potentially wide appeal. You lead a hapless window-washer named Edgar on a quest to stay out of trouble and get the girl of his dreams, all accomplished through an interactive series of clever, cartoony, Don Bluth-style sequences. As far as we can tell, there are no dragons, ninjas, guns or tanks to be found. At E3, that alone is an accomplishment.
GREE - Not a single game, but rather an entire app store and accompanying social network that delivers a variety of games, GREE is making a major play for both Android and iOS. As proven by their recent acquisition of mobile game maker Funzio (makers of Kingdom Age, Modern War, and Crime Age) for one of those jaw-dropping numbers we're starting to grow used to in the app world ($210 million), this Japanese company means serious business. They've ordered up a huge booth at E3 alongside top developers like Disney Interactive, Warner Brothers Interactive, Konami, and Sega, and have unveiled some brand new games. We don't know what exactly to expect, but GREE is has been buying up mobile game developers across the world and has promised hundreds of games by the end of 2012, calling themselves the Nintendo of mobile gaming in a recent interview.
Alexei Bochenek is a lifelong tech nerd & film buff based in Los Angeles. When he's not playing with his phone, it's because the movie has started. Shhhhh!