May 30, 2012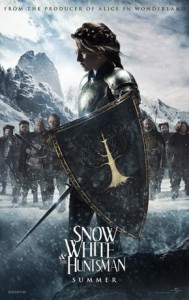 On June 1st, Snow White & The Huntsman sets out to remind us that Princesses aren't always just for saving. Sometimes they pick up a sword, throw on some plate armor, and knock out witches on their own time. To show off the top notch visual design that went into their big-budget fantasy film, Universal Pictures has released a free iPad offering, the Snow White & The Huntsman Storybook, which includes a look at the film's fantastical, scary/beautiful costumes by multiple Oscar winner Colleen Atwood. When you're done previewing that film's dark fantasy setting, we found a couple other ways to celebrate strong princesses on your iPad and iPhone.
Queen's Crown ($1.99) – The Legend of Zelda went through the trouble of naming itself after that story's princess, but making you play as her boyish soon-to-be-savior Link. The similarly styled iPhone game Queen's Crown cuts to the chase, casting you as Princess Ann and putting the fate of this kingdom directly into your hands. Like any good action RPG, you're charged with kicking monster-butt through dozens of quests in order to quell an ancient evil now risen again. And since it's good to have options, your heroine has weapons beyond just a sword, including a bow, a spear, and a hammer–ouch! You'll also have magical powers at your fingertips, as well as a crafting system for creating potions and bejeweling your kit. Explore the free demo version to see if this kingdom is worth saving.
Auryn – The Little Mermaid (3.99) – The princess in this classic Hans Christian Andersen fairytale doesn't need a huge helping of adrenaline (Walt Disney schmaltz) to challenge expectations and take charge of her own fate. A direct telling of the original 1837 story's words, accompanied by beautifully painted illustrations by artist Lisbeth Zwerger, this interactive iPad storybook revives a time when children's stories were complex and emotional. Water ripples across the pages and splashes from the speakers as you turn through tail of the little mermaid, who has been gifted and cursed by a glimpse of life on the surface. What awaits her up there are tough decisions about the future she desires, and consequences she'll have to face without the help of any dashing prince. And sure, she eventually gets a sword too…but how will she use it?
Alexei Bochenek is a lifelong tech nerd & film buff based in Los Angeles. When he's not playing with his phone, it's because the movie has started. Shhhhh!