May 2, 2012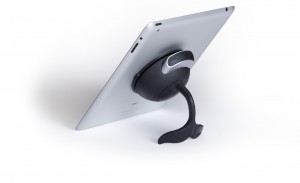 In iPhoneLife's Todd Bernhard's second review of Octa's Vacuum Dock + WhaleTail tablet stand, he highlights the benefits of the product.
The Vacuum Dock + WhaleTail functions as both a tablet stand and grip (and handle), so you don't need more than one tablet accessory. It also uses vacuum suction, which adheres to any non-porous surface, so you won't have to get a new stand when switching from the iPad 2 to the new iPad. It also works with any other tablet or e-reader with non-porous backing or any non-porous case!
The WhaleTail extension is adjustable, so you can use it as a tablet stand at any angle. You can also curl the tail back over your hand so it fits comfortably as a grip or handle. The twin flukes even bend inwards for added support!
The system is not lacking for support or reliability, as it attaches using Octa's very own vacuum suction technology. The hold can last up to days, and Todd Bernhard commends it's durability.
To use the Vacuum Dock as a grip, simply press it against the back of your tablet, or tablet case, and give it a few pumps. Set it on the table and you've got a low angle tablet stand. For a high angle tablet stand and handle, you'll need to attach the WhaleTail. Simply remove the Dome Cap (or protective gear cover) and click on the WhaleTail!
The Vacuum Dock + WhaleTail can be bought online at www.octa.com. The package includes the Vacuum Dock, WhaleTail, Dome Cap, and a carry pouch that also functions as a screen wipe.
The Vacuum Dock is also compatible with the designes for all of our future tails, which will all have different functions. We hope you're looking forward to them as much as Todd is!
Win the fin, by Liking Octa Products on Facebook