February 2, 2012
TidBITS found Octa at Macworld and was impressed with the suction technology used in their TabletTail tablet stand system, which also functions a handle and a grip!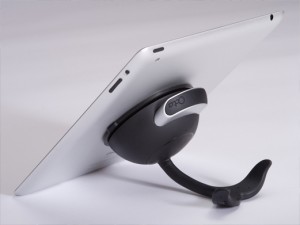 Octa's first product in their TabletTail line — the Vacuum Dock + WhaleTail — starts with the Vacuum Dock. Simply place the Vacuum Dock against your iPad, e-reader, tablet, or non-porous case and give it a few easy pumps. The Vacuum Dock will stick to the back of your device for a minimum of six hours without re-pumping! (Did we mention it can hold up to 60 pounds?) The Vacuum Dock functions as is for use as an iPad grip.
Want to use the system as a tablet stand or handle? Simply pop out the Dome Cap, a piece that covers the metal gears within the Vacuum Dock, and lock in the WhaleTail. The WhaleTail can be used easily as a tablet stand on any surface, as the twin flukes bend to add support and adjustability. Flex the tail to create a high angle tablet stand, or adjust it down to a low angle. It can be used on both horizontal and vertical planes.
To use the  WhaleTail as an iPad handle, simply thread the tail in between your fingers. The tail bends over your hand creating a tight fit and added support. The twin flukes even curl in towards your wrist for additional stability. With a handle like this, you're free to move around without fear of dropping your iPad, tablet, or e-reader.
The system includes the Vacuum Dock, Dome Cap, and WhaleTail, which come with a drawstring bag. The bag is even made out of a special material made to clean the screens of your devices! Additional tails will be released throughout 2012, all of which will be completely interchangeable with the Vacuum Dock + WhaleTail.
Cool Products at Macworld | iWorld 2012