February 2, 2012
TimesUnion.com suggests gifting the Vacuum Dock +WhaleTail tablet stand to your favorite tech-head for Valentine's Day.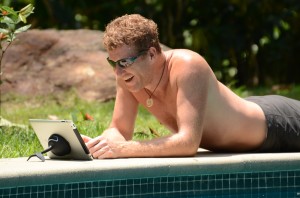 Have you already given him or her an iPad? Or was he or she the first to pre-order when the famed Apple tablet was announced? Maybe your man or woman prefers a different tablet or e-reader. No matter, this is the perfect gift for the tech savvy sweetie in your life.
This three-piece system includes a Vacuum Dock, WhaleTail and Dome Cap, and functions as a tablet stand, grip and handle. One could say, it's the all-inclusive iPad gift.
All your lover need do is press the Vacuum Dock against the back of his or her tablet, e-reader or non-porous case and give it a pump-pump-pump. Once attached it will not let go (much like you). Well, for a minimum of six hours, but you can always give the Vacuum Dock an extra pump for added security.
If he or she is a reader, the Vacuum Dock is well used with the Dome Cap, a rubber cover that protects the hand from the Vacuum Dock's gear system. Attached to the Kindle or Kindle Fire (or any other tablet), this makes for a light and comfortable grip. The shape of the Vacuum Dock is made to fit perfectly in the human hand at rest, making the device very easy to hold.
Your sweetie can remove the Dome Cap and reveal the gear system to lock in the WhaleTail for use as a tablet stand or handle. The WhaleTail can be adjusted to prop up a tablet at any range of angles and can be used on any plane, horizontal or vertical. Does he or she want to use the WhaleTail as a tablet handle? Easy breezy. The tech-head of your dreams can simply thread the tail between his or her fingers and bend it to the contour of his or her hand! Here's a tip: the twin flukes bend inwards for added support around the wrist.
Every gift needs wrapping, and this one comes with it! The Vacuum Dock + WhaleTail comes in a lovely drawstring bag that can be used as a screen cleaner. You're sweetie is sure to appreciate that!