February 14, 2012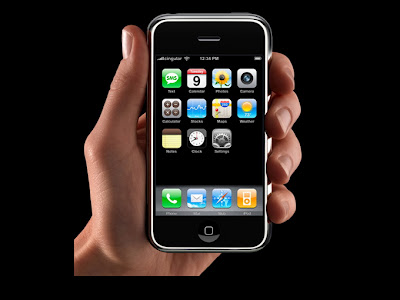 Without an iPad, an iPhone, or even a sufficiently smart phone, I was getting left behind. Literally. While stopping for coffee, I realized I still hadn't bought tickets for Star Wars: Episode I in 3D. After booting up my clunky laptop, the Starbucks' "Terms & Agreements" blocked my way to the Internet. While the progress bar hiccuped, I noticed a man in line using the Fandango App on his iPhone. A couple taps on his screen and… "Congratulations! You've purchased tickets to Star Wars: Episode I in 3D!" He called his buddy. "We're on for tonight!" When my browser finally loaded, tickets were sold out. I won't be getting any special edition Darth Maul 3D glasses. Mobile technology can make life easier, but with the plethora of devices, applications and accessories, knowing what tools are useful can pose a challenge. Finding mobility was something I could do only after discovering what products to look for.
My journey into mobile computing began with the iPhone. Although technically a smartphone, my BlackBerry Curve was not suitable for Internet usage. The browser was chronically slow to load, I could only open one web page at a time, and not all websites were compatible with my phone. I switched to the iPhone with the camera and Twitter applications in mind, but quickly learned that my new technology was advantageous to me in more ways than I'd known. The combination of a faster 3G network and the Safari application, which supports all websites, made mobile browsing infinitely easier. My criteria for electronics changed with my adoption of the iPhone and I began looking for devices that were more user-friendly and had better connectivity.
The mobility technology provided on the road heightened my expectations at home. I wanted to roam the house with my laptop, instead of sitting crammed in a corner straining for one bar of wi-fi. My Internet connection was weak and insecure. I tried twice to set up a Linksys password, and both times I ended up locked out of my own network. After months of frustration, my Linksys router went out the window. I treated myself to an AirPort Extreme. It took 10 minutes to set up my own network and a guest network. I can now use the Internet securely from any room in my apartment. Once I add an AirPort Express, I'll be able to plug in speakers and play music from my phone.
My laptop was the only device being left out. Since I don't have an iPad or tablet, I rely on my computer for working on the go. I needed a wireless connection that found my computer, instead of making my computer find it. The simplest solution was to active tethering on my iPhone. Tethering creates a portable wireless network for your computer using an Internet-capable mobile phone. I upgraded my data service and hopped into the passenger seat. (Without one of those Google self-driving cars, my friend had to steer.) I went to the settings menu, turned on my personal network and entered a password into my computer. Now I can work while crawling L.A.'s 405.
With my uber-amped home wi-fi, my tethered computer and my iPhone, I have the tools I need to take work and pleasure with me. There is not a pair of Darth Maul 3D glasses in the galaxy that can escape my technology. I'm mobile.
Dana Braziel-Solovy is a comic book aficionado who's getting more and more into technology every day. When she's not busy training her Sith Apprentice, she uses her iPhone to command an army of virtual dragons.