April 10, 2012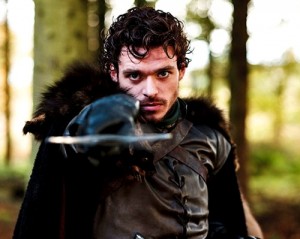 It might seem a bit early to worry about the coming of Winter, but don't tell that to the residents of Westeros, the fictional setting of George R. R. Martin's uber-popular book series, A Song of Ice and Fire. Currently airing on HBO as the big budget series Game of Thrones, this epic medieval fantasy has stepped out of the nerdy niche of Dungeons & Dragons aficionados and Comic-Con cosplayers and crossed into the mainstream in a big way. Have you been tuning in? If so, then travel north with us, past The Wall, into the mysterious territory of Game of Thrones fandom with apps, iPad Cases and more!
The Game of Thrones Companion ($2.99) – This app for iPhone and iPad will help you navigate the complicated mythology, politics and interwoven plots that make Martin's massive books so gratifying- if not somewhat confusing as well. A full wiki at your fingertips, browse through the places and characters of the Seven Kingdoms for extra insight as you read or watch.
House Lannister or House Baratheon iPad Cases ($145) – Handmade from real leather and embossed with the slogan and logo of the houses they represent, these iPad cases are sure to drive any hardcore Game of Thrones fan wild. The dark stitching and antique brass clasps deliver a vintage feel that honors the lush mythical setting of Martin's stories, and each of the two cases take the appropriate steps to mirroring the styles of the warring lords they show allegiance to; House Lannister is red, regal, and shining bright, while Baratheon is dark, rustic, and richly worn in.
Wallpapers, Backgrounds, and Avatars (Free) – HBO knows that we're not simply tuning in for an hour and then forgetting the regularly mind-blowing on-screen events, so they've provided an abundance of Game of Thrones online ephemera at their official website to keep us waiting for the next week's action to come. From iPhone and desktop & iPad wallpapers, to profile pictures and Twitter backgrounds, your entire digital life is ready to go full fantasy fanboy.
Alexei Bochenek is a lifelong tech nerd & film buff based in Los Angeles. When he's not playing with his phone, it's because the movie has started. Shhhhh!