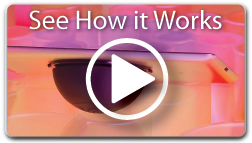 All-in-One Handle and Stand.
Flexible tail and fins allow students to find the most productive position for their iPad stand
Instantly transforms into iPad handle that can move around the classroom
Appropriate for a wide range of students, from K-12 through college
Compatible with many smooth, non-porous iPad cases and skins
The device made the tablet much easier to hold, carry and set down…
— New York Times
iPad in Education Made Easy
With the iPad safely and comfortably positioned, student users can focus on
learning. The TabletTail: Whale Kit™ is simple and quick to set up. After the bell
rings, students can easily carry their iPads to their next classes.

Compact
Lightweight and compact
enough to fit in a backpack;
stows in seconds

Flexible
Bendable tail allows
users to find the ideal height
and angle for their iPad stand

Compatible
Works on all iPad and
iPad Mini models and with
many smooth cases

Comfortable
Ideal grip size
for K-12, university
students and educators

Reliable
Durable and secure Durable and
secure vacuum-pump system with
metal chamber reinforcement for
long-lasting suction power

Ergonomic
Healthy grip position
allows students to avoid
strains from repetitive use
iPad for School, iPad for Home
The Whale Kit helps students get their homework done
wherever they are. It's as comfortable to use on the
couch as it is to use at a desk, and it makes sharing
work with a tutor or study buddy easy.
Future-Proof Your Classroom
The Whale Kit works on all iPad and iPad Mini models, as
well as on many other tablets and e-readers. It's been
engineered to work on future tablet models, making
outfitting the iPad in education less expensive. If your
classroom has multiple tablets, Octa's universal accessory
will simplify the management of your class inventory. The
Whale Kit also works on many iPad skins and on smooth,
non-porous cases.
Raise Your Hand for the
iPad in Education
With the Whale Kit, a student can set their iPad down
at the most productive angle for viewing textbooks.
Without having to hold the tablet, they can raise their
hands freely. They can move around the classroom
and gather in groups, using the secure iPad handle to
keep a safe and comfortable grip on their device.
Move Around with the iPad
in the Classroom
The ideal presentation tool, the Whale Kit allows teachers
to move around the classroom freely. Imagine running a
slideshow from anywhere in the room! Because it
transforms instantly from a handle to an iPad stand, the
Whale Kit can be set down without adjustment, allowing
teachers to quickly shift lessons.