July 11, 2012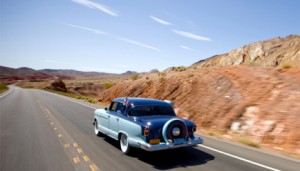 While the weather is nice, there's no better time to hop in the car and head out on the highway to discover what the rest of the country has to offer. We decided to honor this grand tradition of summer road trips by searching out the best apps and accessories to pack alongside your trusty iPhone and iPad.
Gas Buddy (Free) – Unless you've made the switch to all-electric, you're going to need to stop along the way for gas. GasBuddy is a great free app for comparing fuel prices from station to station so that you always fill up without overpaying.
iExit ($.99) – For under a dollar, know when the next exit is coming and exactly what you'll find there. iExit takes the gambling out of pulling over for gas and snacks by telling you just what amenities you'll find when you venture off your path. Never again will a Wendy's fan have to settle for Burger King when it was just one more exit down the line.
Trip Journal ($2.99) – Snap photos and jot down notes along the way, and Trip Journal will keep track of the places you've been and times you were there. When you've reached your destination, you'll see the story of your journey neatly organized and saved for sharing via your social network of choice.
En Route! (Free) – If there will be somebody waiting for you at the end of your next trip, you'll want to check out En Route! before you leave. A simple concept with a clean execution, this app tracks your progress and broadcasts it to a select audience via e-mail or Facebook. Friends and family can check in on your progress and will be notified when you're getting close without having to call you to check in.
InCase Dual USB Charger ($25.43) – Not all phone chargers are created equal. The Incase Dual USB Charger converts your cigarette lighter into two USB chargers, each putting out 2.1 amps per port, which is the maximum that an iPhone or iPad can take advantage of at one time.
Find more helpful apps in our recent article on summer fun apps, like TripAdvisor for finding and booking hotels and activities, and BeachWeather for scoping out the temperature at whatever coast you love the most.
Alexei Bochenek is a lifelong tech nerd & film buff based in Los Angeles. When he's not playing with his phone, it's because the movie has started. Shhhhh!