March 27, 2012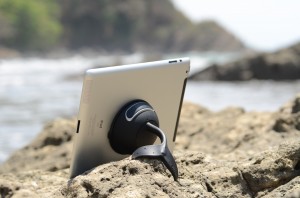 TabletTail Is Now Available for Mass Shipment
DENVER, CO–(Marketwire – Mar 27, 2012) – Octa™ (https://www.octa.com), a creator of iPad accessories, today announced that its debut product line is compatible with the new iPad. The line ushers in a new category of iPad accessories the company has labeled "grip and positioning systems," providing combined iPad stands and iPad handles.
The TabletTail™ product line is comprised of a two-part system: the Vacuum Dock + WhaleTail. The Vacuum Dock is a comfortably-shaped grip with a convenient low-angle iPad stand. When attached to the Vacuum Dock, the WhaleTail becomes a robust stand, providing a full range of viewing and typing angles even on the most unexpected surfaces. The WhaleTail doubles as an iPad handle, adding security and ease of movement.
"Three million new iPads just flew off the shelves, yet few iPad accessories are available immediately after a new model is released," said Octa's COO Nikki Braziel. "The new iPad is heavier than its predecessor, making it even more important to carry a comfortable iPad handle. The WhaleTail turns into an iPad stand when you're ready to put the iPad down."
The Vacuum Dock + WhaleTail offer the following features and benefits:
Vacuum suction lasts for days and just one pump renews the seal
Sturdy iPad stand works on soft and uneven surfaces, from couches and beds to sandy beaches and grassy parks
Transitions quickly to iPad handle
Lightweight, compact and portable
Sleek, unique and fun design
The WhaleTail is priced at $49.95. Additional docks and interchangeable tails will be released throughout 2012 and beyond. For more information, visit https://www.octa.com.
ABOUT OCTA
Octa creates distinctive iPad accessories that make the digital experience more enjoyable. The creation of Prometheus Trotsky and Nikki Braziel, Octa was born from their combined love of technology and natural form. The team is comprised of a small group of artists, engineers, and inventors, constantly striving to combine beauty and functionality. They maintain a creative environment by combining work and playfulness in their Denver headquarters.